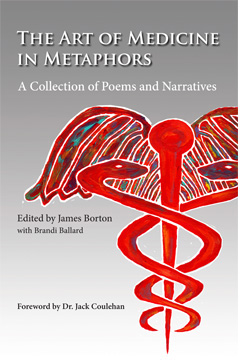 The Art of Medicine in Metaphors / by James Borton
Published in 2013 by Copernicus Healthcare
Paperback: $14.95
ISBN: 978-0-9837734-9-8
Buy a paperback book from Amazon.com

Poetry and stories about illness address more than just the symptoms of disease. Narratives and poems are the pathways for people to make sense of and discover meaning in life's difficult events. This anthology connects the world of medicine with patients' experience. The lyrical power of patients' voices and the metaphors they use offer insight, empathy, and compassion into the heart of the medical conversation. 

"It is always a privilege to listen to the voices of ordinary people as they struggle with the extraordinary challenges inherent in serious illness, disability, loss, and death.  In The Art of Medicine in Metaphors, these heartfelt stories pour forth, in poetry and in prose, and we are lifted up in reading them." —Dr. Johanna Shapiro, Director, Program in Medical Humanities & Arts University of California, Irvine College of Medicine. Irvine, CA.
.
PREVIOUS PUBLISHING PROJECTS - by John Geyman, M.D.
.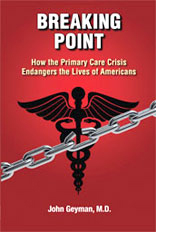 Breaking Point - How the Primary Care Crisis Endangers the Lives of Americans —by John Geyman, M.D.
"As always, John Geyman's feet-on-the-ground, eyes-on-the-horizon writing about health care in America brings lucidity to the topic... It is Geyman at his best." —Fitzhugh Mullan, M.D., Murdock Head Professor of Medicine and Health Policy, The George Washington University

"In
Breaking Point
, John Geyman explains why it is crucial for us to rebuild our primary care infrastructure, and how we can do it." —Don McCanne, M.D., Senior Health Policy Fellow, Physicians for a National Health Program (PNHP)
(2011) 234 pages, $18.95
Buy a paperback book from Amazon.com
Buy an eBook from Amazon.com
.
---
.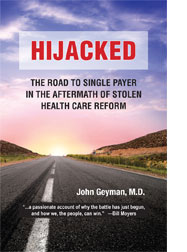 Hijacked
by John Geyman, M.D.

The Patient Protection and Affordable Care Act of 2010 (PPACA) is being spun as the answer to our problems of health care access, costs and quality. But the dirty little secret is that the reform effort has been stolen by the very corporate interests that have perpetuated and profited from these problems for years. The result is a bailout of a failing insurance industry and a bonanza for Wall Street. Most Americans and Main Street lose once again. The need for real health care reform remains urgent. This well-documented book charts a path to that end.
(2010) 290 pages, $18.95
Buy a print book from Amazon.com - click here
Buy a Kindle™ eBook from Amazon.com - click here