---
BOOKS BEFORE 2005 - BY JOHN GEYMAN, M.D.
---
The Corporate Transformation of Health Care - by John Geyman, M.D.
The author explores how the corporate transformation of hospitals, HMOs, and the insurance and pharmaceutical industries has resulted in reduction in services, dangerous cost cutting, poor regulation, and corrupt research. He sheds light on the political lobbying and media manipulation that keeps the present system in place. Exposing the shortcomings of reform proposals that do little to alter the status quo, he makes a case for a workable single-payer system. This is an essential read for today's practitioners, policy makers, healthcare analysts and providers, and all those concerned with the precarious state of America's under- and uninsured.
(2004) 328 pages, Springer Publishing Company
Buy a print book from Amazon.com - click here
.

...

.
---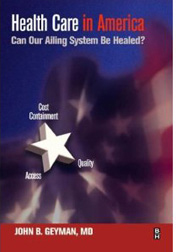 Health Care in America: Can Our Ailing System Be Healed? - by John Geyman, M.D.
(2002) 441 pages, Published by Butterworth-Heinemann
Buy a print book from Amazon.com - click here
Written by a first-and-foremost clinician * Unique perspective sheds light on the urgency of health care reform * Provides a snapshot of our changed and changing system.Topics include major trends affecting health care, private verses public sectors in public health, improving access to health care, the aging population and its affects on health care, and principles and pathways for health care reform.
..
..
..
.
---
Flight as a Lifetime Passion: Adventures: Misadventures and Lessons - by John Geyman, M.D.
An adventure-filled story of flying—the "low and slow" kind—including tail-draggers, gliders, hanggliders, floatplanes, and an open-cockpit homebuilt. Also a candid accounting of misadventures along the way, which illustrate variants of Murphy's Law, and on occassion led to lessons learned the hard way. This personal journey bears witness to the allure and to the wonder of flight.
(2000) 158 pages, Published by Avian Ridge Books
Buy a print book from Amazon.com - click here
.
.
.
..
---
Evidence-Based Clinical Practice: Concepts and Approaches - by John Geyman, Richard A Deyo, Scott D. Ramsey (Editors)
(2000) 178 pages, Published by Butterworth-Heinemann
Buy a print book from Amazon.com - click here
Due to recent developments in the healthcare environment, the science of evidence-based medicine has gained momentum and begun to influence practice and health policy. Based on the idea that the busy practitioner needs to learn the evidence-based medicine skills before applying the tools to everyday practice, this succint handbook acquaints the reader with this timely method of problem solving. After reading this text, physicians will be able to more critically read the medical literature, develop new skills of self-learning, better evaluate clinical guidelines, understand the techniques and limitations of cost and outcomes assessment, and apply the aforementioned skills to clinical practice.
..
..
---
Family Practice: Foundation of Changing Health Care (2nd Edition) - by John Geyman, M.D.
(1985) 305 pages, Published by Appleton-Century-Crofts
The goals of this book are three-fold: (1) to provide an overview of family practice fifteen years after its recognition as a specialty; (2) to describe progress in the field in terms of clinical, educational, research, and organizational perspectives; (3) to show how this specialty relates to medicine as a whole and to the community.
.
..
..
.
.
---
The Modern Family Doctor and Changing Medical Practice - by John Geyman, M.D.
(1971) 297 pages, Published by Appleton-Century-Crofts
This book has three objectives: (1) to discuss how the modern family doctor differs from the earlier model of the general practitioner; (2) to define the role of the family doctor and the expanding health team, and to ellucidate the projected content of his practice; and (3) to stress the urgency of the present crisis in health care and the consequent challenge to our entire system of medical education and the structure of medical practice.