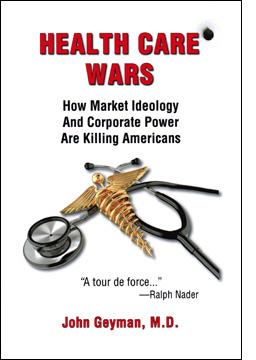 Health Care Wars - How Market Ideology and Corporate Power are Killing Americans / by John Geyman, M.D.
Published in 2012 by Copernicus Healthcare / 248 pages
ISBN paper: 978-0983773481
Paperback: $18.95 / eBook: $9.99
Buy a paperback book from Amazon.com

While pharmaceutical companies, insurance companies and medical product companies profit, taxpayers are getting squeezed at an accelerating rate. To make sense of the system and understand why the health care cost debate is only beginning you have to read the succinct words of one of America's wise men, John Geyman, MD. Regardless of what the Supreme Court decides and which party controls Washington, Dr. Geyman's words of wisdom will guide us for the foreseeable future. A must read for all interested in health care policy.